L'année de FAC est enfin terminé. (ou presque, réponse le 3 Juin)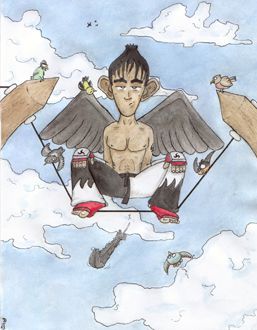 Le temps pour moi de remettre les compteur à zéro et de me recadrer sur ce que j'aime faire, le dessin et l'écriture. j'ai d'ailleurs terminé un dessin pour Kima. (Peut être, que je l'afficherais ici, si elle le scanne).
Mille excuses pour les deux précédents messages qui n'étaient pas d'une entrain exemplaire... l'état de santé de mon grand père empire au fur et a mesure qu'il reste à l'hôpital et une accumulation de crasse tombe sur les épaules de notre famille depuis plusieurs semaines. (on a un chat qui a disparu depuis près d'une semaine...).
J'espère que les prochains messages seront d'une nature plus enjouée.
Sinon, petit quizz sympa.
1. Who are you?
2. Are we friends?
3. When and how did we meet?
4. Do you have a crush on me?
5. Would you kiss me?
6. Give me a nickname and explain why you picked it.
7. Describe me in one word.
8. What was your first impression?
9. Do you still think that way about me now?
10. What reminds you of me?
11. If you could give me anything what would it be?
12. How well do you know me?
13. When's the last time you saw me?
14. Ever wanted to tell me something but couldn't?
15. Are you going to put this on your blog and see what I say about you?

Piqué à Muku, qui l'a lui même piqué à Kima !